Fall – Aquatica
®

, SeaWorld's Waterpark

While the rest of the country is donning jackets and raking leaves, you could be soaking up the Florida sun and screaming down one of Aquatica's awesome water slides. Sounds great, doesn't it?

It turns out that fall is actually one of the best times to visit this SeaWorld Orlando water park because temperatures are still in the high 80s, but crowds are minimal. You can also rent a private cabana for a fraction of the summer season price, which is a great way to bring the family back together for snacks and stories between rides.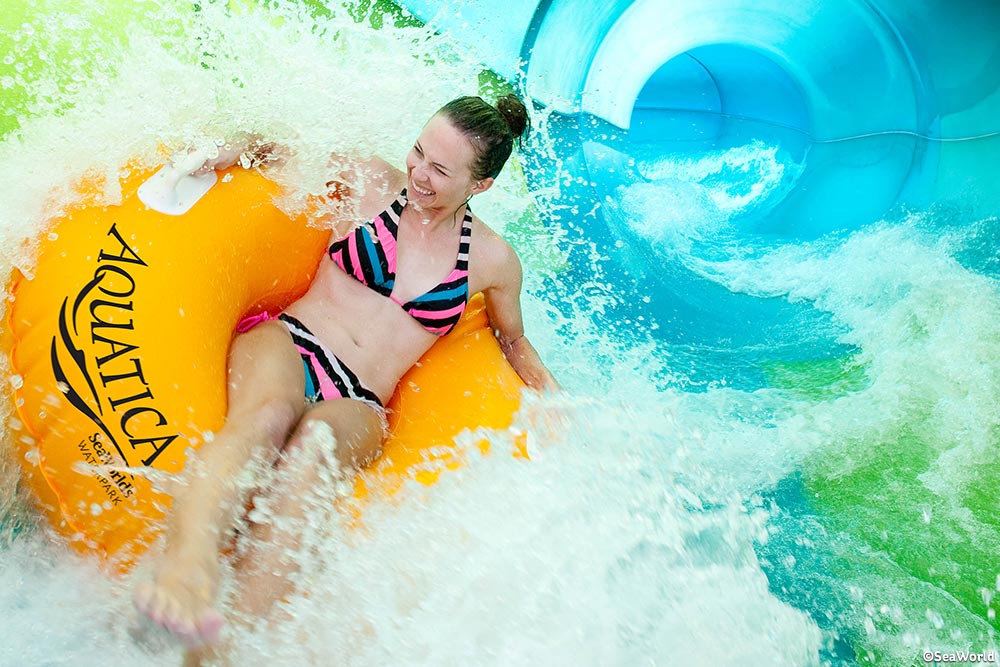 A SeaWorld attraction wouldn't be complete without animals, and that's the idea behind one of Aquatica's most popular rides. Dolphin Plunge® is a tube slide that runs under the water and through a tank full of Commerson's dolphins! The kids will ride this slide again and again, trying to get the "panda dolphins" to race alongside them as they zip by. You can also see dolphins on the lazy river Loggerhead Lane, a gentle inner tube ride through an underwater tunnel full of tropical fish.
For those who prefer life in the fast lane, Taumata Racer® speeds riders down a 300-foot slide, in and out of tunnels, and around a 360-degree turn before racing them across the finish line. Eight lanes of racing fun means that the whole family can take the plunge together.
Two other attractions you won't find anywhere else in Central Florida are Tassie's Twister and Walkabout Waters. Tassie's Twister sends you down a super-fast slide where you end up in a giant bowl that sets you spinning all around until you end up in Loggerhead Lane. Walkabout Waters is a fort in a pool that includes falls, drop buckets, and, best of all, water cannons. Not just for kids, this splashy playground promises an epic water fight with family (and strangers) that you'll all be talking about for years to come.
The rainy season is over, the temperatures are pleasant and the summer crowds are gone. Kissimmee in the fall is simply paradise.