A meal fit for a king (or queen)
For dinner, we had roasted chicken, potatoes, corn-on-the-cob, tomato bisque soup, garlic bread, and a pastry for dessert. Without any utensils, the soup was challenging—we basically had to drink it, which Tyler and Drew absolutely relished to the very last slurp. The huge piece of chicken had the drumstick on it so I could wave it around like a sword while cheering our knight on. There was also a full bar on site, so I decided a hearty ale would be appropriate for these festive proceedings.
Between bites of food, we watched a falconer send his trained falcon to soar through the arena, knights fighting with swords, and horses prance around on parade. I looked over while the knights fought, their blades sending sparks in all directions, and caught Ava dipping her fingers in the soup and licking them. She really got into the spirit of the evening and celebrated the "no utensils" thing.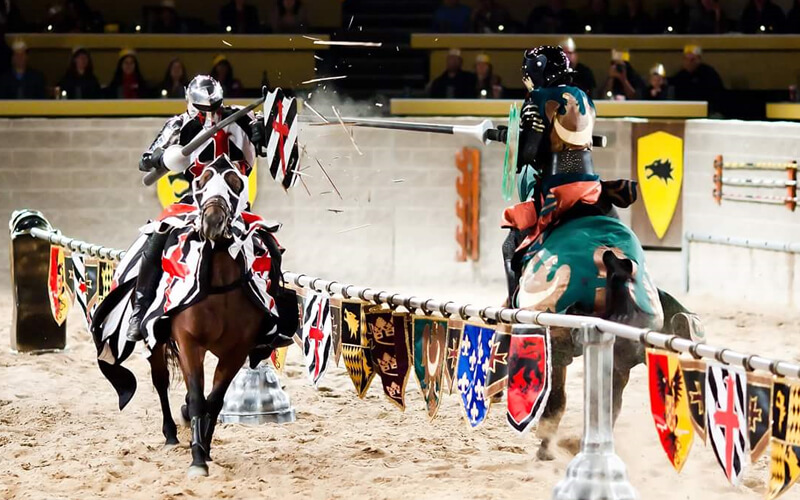 Our favorite part of the show was the joust. I actually jumped back when the riders hit each other with their lances—the wood exploded in a shower of splinters. The crowd roared each time the knights rode by on their horses. As the red knight trotted in front of us with his lance held high in the air, I raised my mug to him and cheered while the boys waved their red banners in the air. I looked over to my wife and motioned toward the kids.
"They're going to expect all meals to be this exciting from now on, aren't they?" I asked her. She grinned.
By the time the tournament ended, the boys were grinning ear to ear and Ava had her arms up in excitement. With a last curtain call, the knights came out and took a bow to a standing ovation.
"Did you guys like that?" I asked as the lights came on.
"Yes!" Tyler exclaimed.
"Can we come back tomorrow?" Drew asked.
"Horsie!" added Ava.
As we drove back to our hotel, I glanced in the rearview mirror and saw the kids all slumped over in their car seats, snoozing away after an eventful evening. The paper crowns were still on their heads, just slightly askew. There's something truly special about taking your kids on a vacation where they get to experience what you did as a kid. It's something they'll always remember—a knight they won't forget.