More familiar faces (and hoof prints)
The princess with the best hair is Rapunzel. Mom knew I wanted to meet her, so she suggested we go to the Princess Fairytale Hall. Inside, there were giant portraits of every Princess, including several I had already met. Rapunzel stood in the corner, and she smiled as I approached. I told her I liked her artwork from the movie.
"Do you like to draw?" she asked.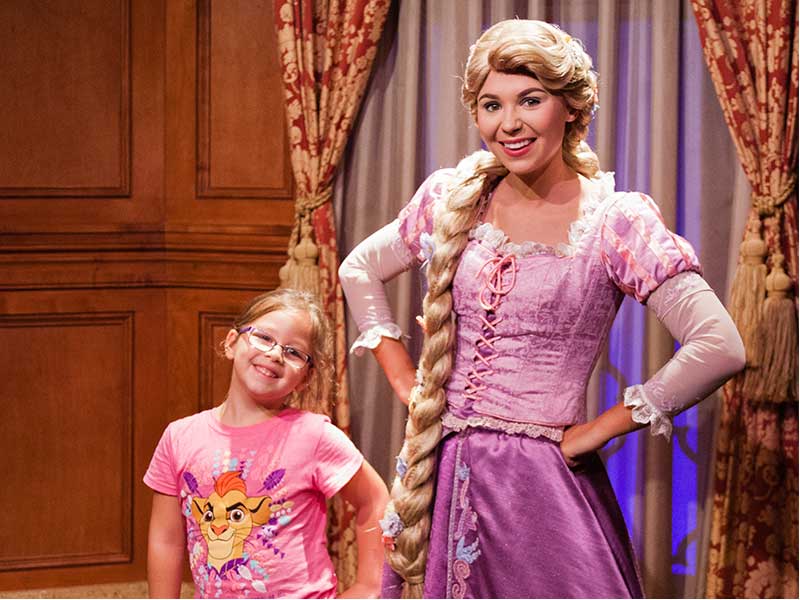 ©Jon Artigas
I told her I tried to color my bedroom once. I didn't get dessert that night.
"Who wants to have a treat with Princess Tiana and Prince Naveen?" Mom asked after we left the hall.
Aubrey and I practically ran to Liberty Square Riverboat where the royalty was serving ice cream. Then, we had a contest to see who could make the biggest sundae. I'm not sure who won but we definitely made a mess. "It's okay," Mom said, wiping sprinkles off our dresses. "Princesses aren't perfect." Tiana looked pretty perfect to me. Then again, she did have to kiss a frog…
We had amazing views of the Festival of Fantasy Parade from the boat. It was like watching all my favorite movies at once. Rapunzel, Merida, Anna and Elsa all waved at us. After the parade, the boat cruised around Rivers of America. "When I was a kid I wanted to be that rascal as much as you want to be a princess," Dad said when we passed Tom Sawyer Island. "Maybe the Bibbidi Bobbidi Boutique can transform you into Tom Sawyer," Mom joked.