Gatorland is the Alligator Capital of the World™, and it's tough to argue that claim. What began in 1949 as a roadside attraction has grown to a 110-acre theme park and wildlife preserve. We entered the park near its giant, iconic alligator jaws, and that set the scene for transporting us to a different world.
The first thing we noticed were alligators sunning themselves on large wooden platforms around the park, I mean, they were everywhere! As we walked deeper into the park we realized there are plenty of other creatures too. There is a huge variety of birds, wild cats, snakes, reptiles, and tortoises throughout, but that's only part of the fun.
We watched people sailing over an alligator pond at the Screamin' Gator Zipline and then we had a chance to feed the gators. Though we were a bit nervous at first, we were quite secure with the three staff members protecting us. The second my son threw his first piece of raw meat at the gators he was hooked. He proceeded to throw piece after piece, making sure each alligator received his fair share. Afterwards, we took some awesome pictures, but I'm sure it's an experience we'll never forget.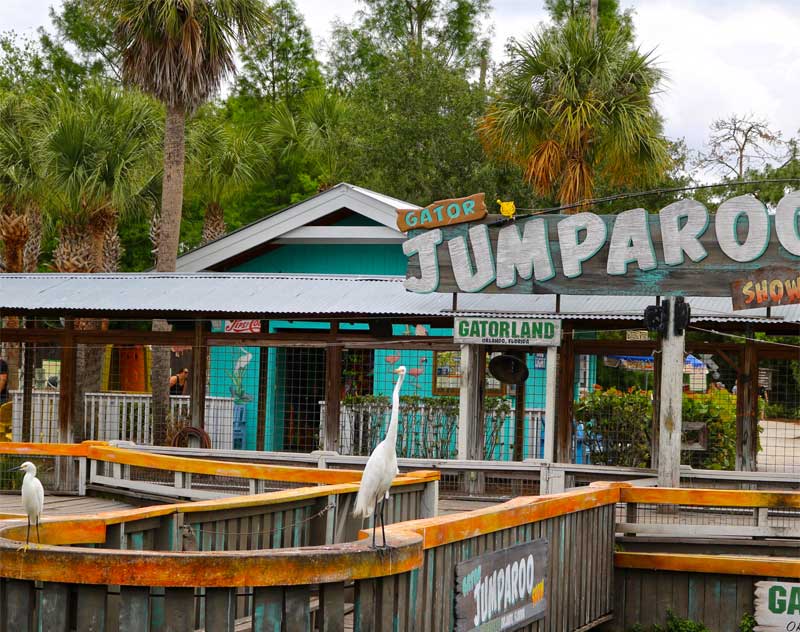 Gatorland's exhibits are very educational and the docents around the park shared their knowledge with everyone who asked. We checked out the daily shows, Gator Jumparoo and Gator Wrestlin'. My son loved seeing the gators jump out of the water (they jump pretty high) and watching the handler hold the alligator's jaws closed with his chin. (That's not something you should try at home). These shows were an amazing way to learn about the unique abilities of the alligators and marvel at the skills of their trained handlers.
Kissimmee, Florida may be known for the big theme parks, but we found plenty to explore off the beaten path. So on your next visit to the area, make time to see a different, classic side of Kissimmee.