Day 1: Universal's Islands of Adventure™
9 am
Standing in the shadow of the massive lighthouse, my wife, Ashley, 14-year-old son Drew and myself, looked on toward the gates to Islands of Adventure™.
"Adventure is waiting," I said. I could almost hear Drew's eyes rolling. Dad jokes just get better with age.
Our first stop on our expedition was Skull Island: Reign of Kong™, the newest addition to the park. Skulls lined the rooftops as we crisscrossed through the queue, careful to avoid the skulls on spiked sticks along the way. Inside, the walls, covered with more skulls (I was starting to see a pattern), began to narrow until Ashley, Drew, and I were walking almost on top of each other, our feet slowly shuffling forward.
"Look!" Drew yelled, pointing to the wall of skulls. Behind the skulls, I could see a person in costume, a real person, staring back us with a blank face. He was growling.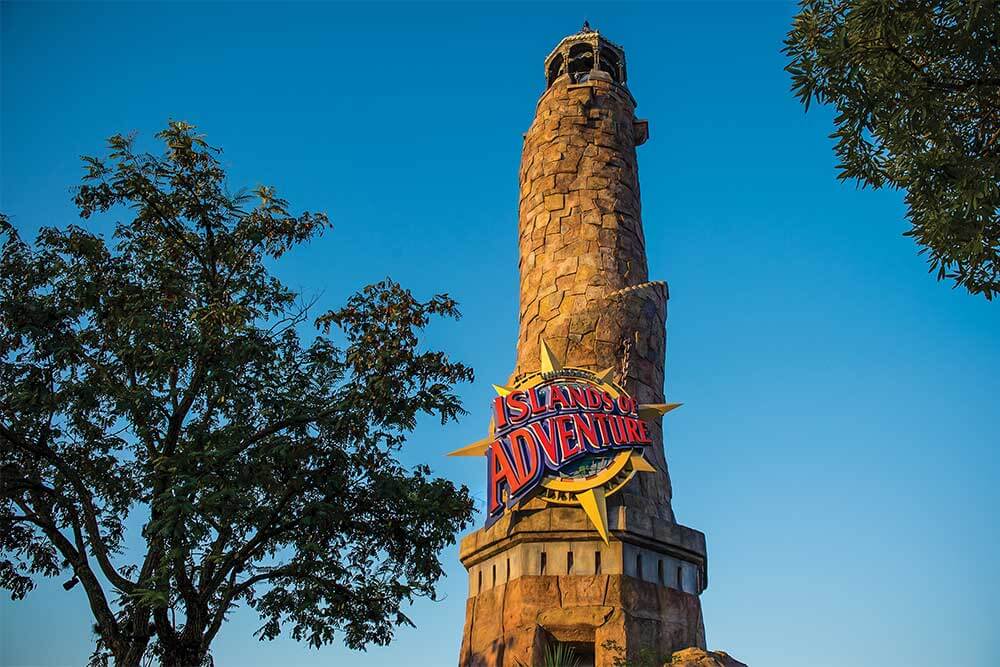 "Um, can we make this line start moving? Like now?" Ashley said in a nervous tone.
Now, Drew wouldn't admit that he was scared, but the single bead of sweat rolling down his face didn't lie.
We soon took a seat in our expedition vehicle, put on our 3D glasses and headed outside, where we drove toward a gigantic temple entrance. Massive gates opened and the island natives begin to chant Kong's name as our vehicle ventured into the dark depths. Before we knew it, we were dodging flying creatures and monstrous worms with teeth, only to narrowly escape and come across the great ape, Kong. Drew reeled back and bumped into me.
"Hey, quit monkeying around!" I said.
11 am
Welcome to Jurassic Park™
Our next adventure had us passing under a very famous gate covered in flaming torches—the iconic music playing in the background.
"Welcome to Jurassic Park," I said in a deep voice. Drew shook his head and was not impressed.
"Raptors rattling the nearby chain link walls caused the three of us to jump back—the haunting calls of the dinos could be heard echoing in the darkness."
We boarded a bright yellow raft on the Jurassic Park River Adventure™ and floated along the gentle waterway until coming upon a group of dinosaurs lounging about in a lagoon. Finally, I thought, a ride that I can relax on. A narrator described the dinosaurs (thankfully all vegetarians) we were seeing amongst the jungle foliage and rocky terrain—that is until we took an unscheduled detour through a raptor containment area. Our little cruise quickly fell into chaos as alarms began to blare and we entered a darkened building. Raptors rattling the nearby chain link walls caused the three of us to jump back—the haunting calls of the dinos could be heard echoing in the darkness. Ashley tightened her grip around my arm like a blood pressure cuff. Suddenly, an enormous T. rex loomed in front of our raft. Ashley yelled as the T. rex bellowed. We narrowly missed its powerful jaws by plummeting down through the building and splashing into the lagoon below. Ashley looked over at me, her hair and shirt drenched from the spray.
2 pm
The Incredible Hulk Coaster®
Our last ride at the park was The Incredible Hulk Coaster®, which had recently been renovated. I looked up, staring at the gleaming green track as people and their screams whipped through the air as the coaster passed by. With the wave of her hand, the wife decided to sit this one out.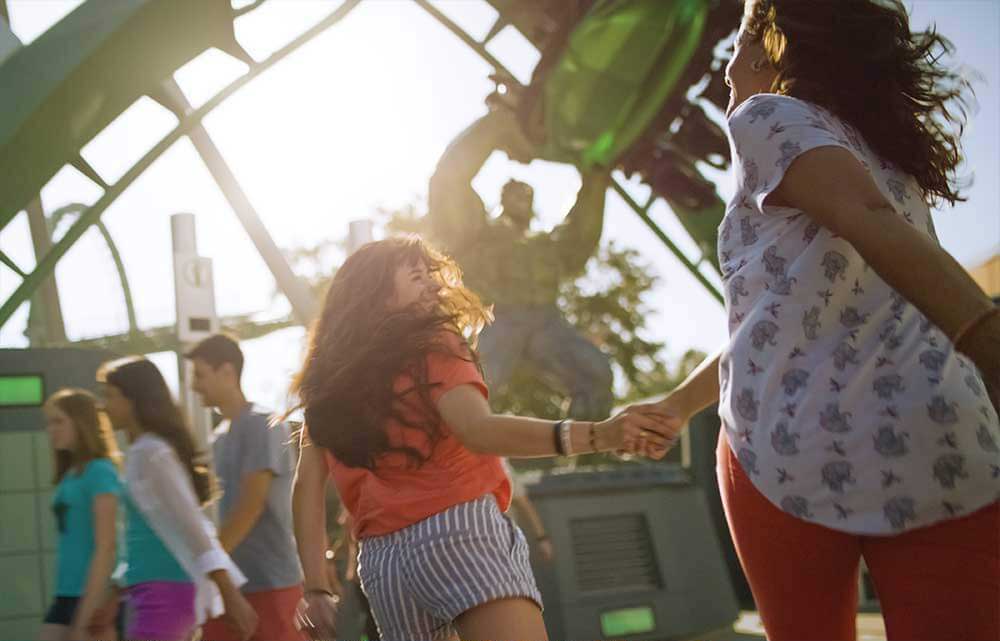 Before we knew it, we were upside down looking at the ground below as the coaster flipped and spun—zooming through the warm Florida afternoon. I think Ashley was waving to us, but I'm not certain—my eyes were closed. Don't tell Drew.
We finished our adventuring for the day at Mythos Restaurant™, a sit-down restaurant themed with Greek mythology that looked like it was carved out of rock. We sat down and relaxed from our travels, smelling wonderful spices on the air wafting from the open kitchen. Most of the food choices had a Mediterranean flair, so we went with an appetizer sampler, the Mezze Platter with hummus, babaganoush, marinated fennel, Kalamata olives and pita, to get a taste of it all. Ashley went for the Greek salad, but I thought I had earned the Beef Medallions for facing a T. rex on two attractions that day. Drew chose the lamb burger. I, of course, made him share a bite.